NIeCer 102: Ethics Review of Health Research
An online course for the members of India's Ethics Committees and Indian professionals engaged in
bio-medical research involving human participants
About the course
ICMR-National Institute of Epidemiology (NIE) offers
NIE-ICMR-WHO online course NIeCer 102: Ethics Review of Health Research. . The course is technically supported by the World Health Organization (WHO), India. The course will provide the fundamentals of ethical issues in biomedical research involving human participants and provide updates on research ethics guidelines in India. This is a self-paced course. The participants can go through the learning materials and submit the self-assessment quiz at any-time after the enrolment into the course.
Enroll now
course feature
Enrollment will open throughout the year
No deadline for enrolment into the course
No deadline for submission of assignments
Participants can learn on their own pace and schedule
Once you secure the cut off scores in assignments (50% in each assignment), participant will become eligible for receiving e-certificate.
Course faculty
This course has been developed and delivered by eminent professionals and researchers from cross-cutting domains who are involved in various organizations and committees in India related to biomedical ethics.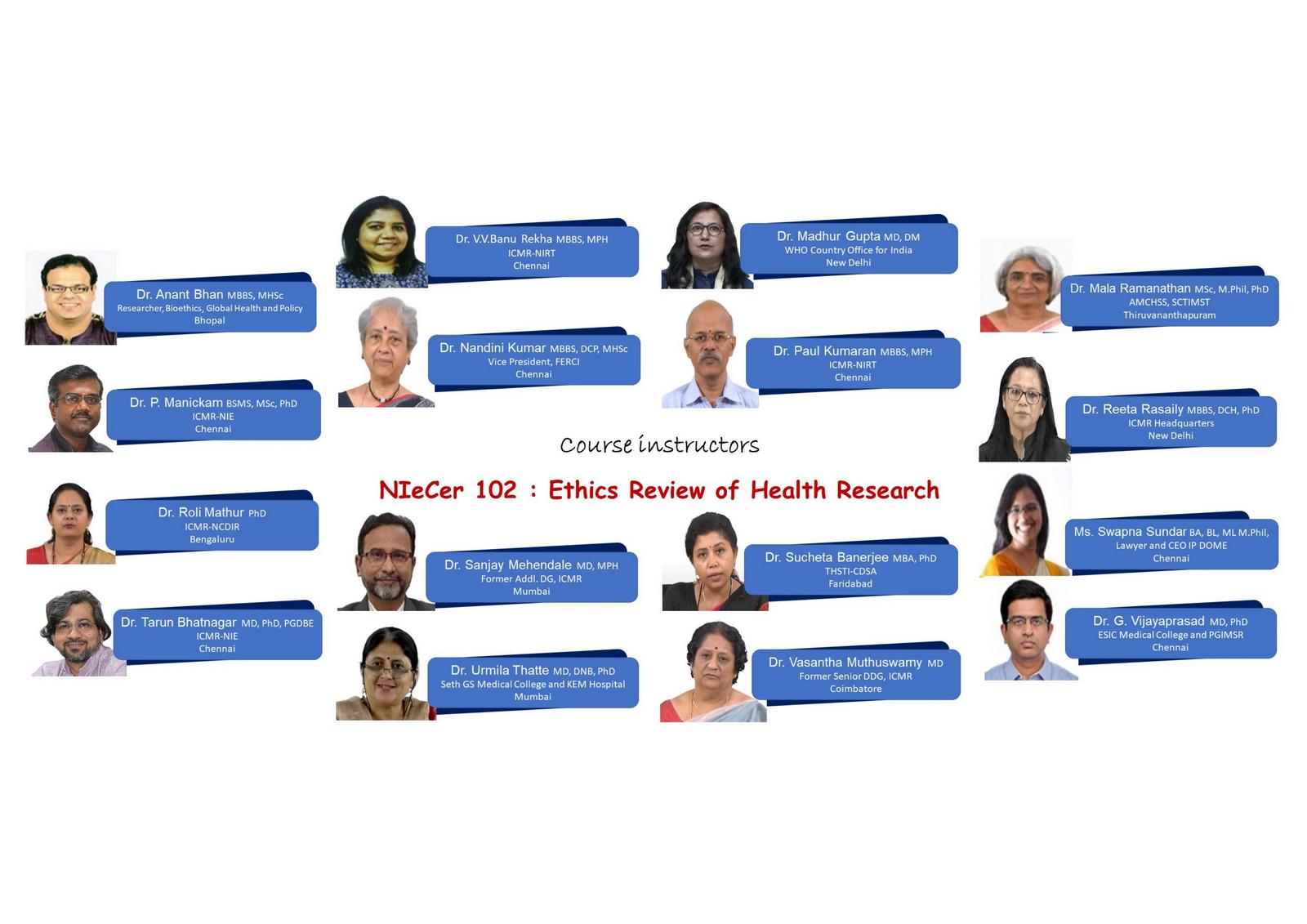 COURSE COORDINATOR
Dr. Bhavani Shankara Bagepally, MBBS, PhD


ACADEMIC COORDINATOR
Dr. E. Rajalakshmi M.D (S)., M.Sc., (Epidemiology)


TEACHING ASSISTANTS
R. Ramakrishna Rao, M.com, M.Sc, M.A
R. Vijayaprabha, MSW


TECHNICAL ASSISTANT
M. Saravanan, M.Sc
Course Layout
General ethical principles
Introduction to health research ethics
International guidelines on ethical conduct of health research
National ethical guidelines for biomedical and health research involving human participants
National ethical guidelines for biomedical research involving children - An overview
Benefits and risks in health research - principles, types and categories
Review of research proposals
Conduct of research ethics committee review meeting
Conflicts of interest
Rationale and science of the research proposal
Risk benefit assessment process
Responsible conduct of research
Responsibilities of a researcher
Rights and duties of researchers, sponsors, participants, and IEC members under the Indian Constitution
Collaborative research
Academic/investigator initiated clinical trials
Regulations and guidelines for conduct of clinical trials in India
Good clinical practices and clinical trial registry of India
Responsible conduct of reseasrch
Protection of review participants
Protection of privacy and confidentiality of research participants

Critical importance of informed consent in health research

Informed consent process

Informed consent in special situations

Payments-Incentives, compensation and reimbursement

Vulnerable populations in health research

Research during humanitarian emergencies and disasters
Functioning of ethics committees
Establishment of ethics committees
Administration of research ethics committees
Roles and responsibilities of ethics committee members
Monitoring ongoing research by ethics committees
Course Process
Course Enrollment
Enrollment will open throughout the year
No deadline for enrollment
Course materials
Video lectures, handouts, transcripts, reading/resource materials available in the course page
Image from Freepik
Evaluation
Complete the quiz by scoring >=50% in each assignment
No dealine for assignment submission
e-Certificate
e-certificate will be awarded to the successful course participants based on the score of ≥50% in each assignment
Course Assignments

Once the participant have cleared the minimum score requirement (>=50%), the participant may not be allowed to submit the assignment again

If 50% is not reached in any of the assignment, you will be allowed to take the test again

You will get the assignment scores for each assignments immediately after submission. You shall also check the assignment scores in the progress tab of your course page

No deadline for assignment submission
Course certificate

e-certificate will be awarded to the successful course partiicpants based on the score of >=50% in each assignment.

e-certificate will be sent thro' your course enrolled email id on the certificate issuing dates

The details filled in the enrollment form will be considered for issuing the e-certificate